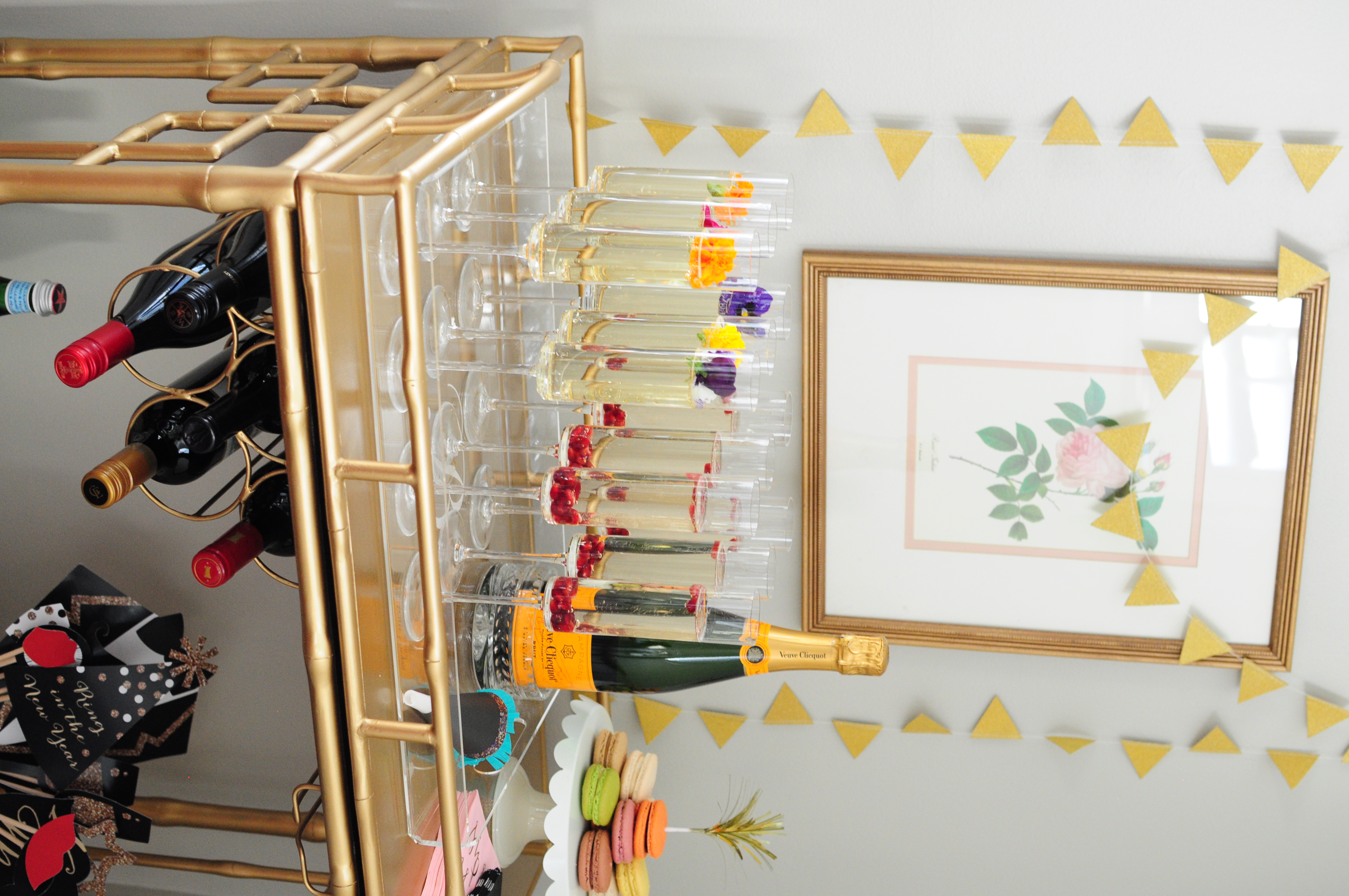 Whether you're hosting a party large or small, here are some last minute tips to ring in the New Year with style and ease!  Thank you to Society Social for featuring my New Year's Eve Bar Cart and tips for hosting on The Social Diary blog.
1. It's okay to keep the decorations simple.
It's easy to get carried away with decorations for your New Year's Eve party.  You don't need to go overboard though. Hang a garland on the wall or your bar cart, get a bouquet of balloons, or try reusing some of your holiday decorations such as candles and string lights.  You can also add flair through your partyware, like napkins and drink stirrers.
2. Add color for a festive twist.
New Year's Eve décor is typically gold and silver, but add some color for a festive twist!  This can be done through your décor, partyware, bottles, drinks, garnishes, and snacks.
3. Pick a signature champagne cocktail (or two).
Champagne is a must have on New Year's Eve, so keep plenty of bottles on hand.  Make your offering more unique with a variety of liqueurs and garnishes.  My favorites liqueurs to add to champagne are Chambord, St. Germain, and Cointreau.  As for garnishes, you can't go wrong with raspberries, blackberries, or strawberries. And if you want to jazz it up a bit more, try edible flowers, pomegranate arils, rosemary sprigs, citrus peels, or rock candy!
4. Keep it to finger foods.
Create easy to serve, small finger foods to keep the party moving smoothly.  Crowd favorites include charcuterie boards, canapés, crudités, caprese skewers, and pigs in a blanket.  As for sweet treats, try French macarons, mini cupcakes, petit fours, fruit tartlets, and cookie cups.
5. Have fun props and party favors for guests.
It's not New Year's Eve without some fun props and party favors!  Everyone will be taking lots of photos, so guests will love having photo booth props and a backdrop.  During the countdown, ring in the New Year with bells, noisemakers, party hats, confetti poppers, and party favor crackers.
Cheers and Happy New Year!  I wish you all the best!
GET THE LOOK
xx,